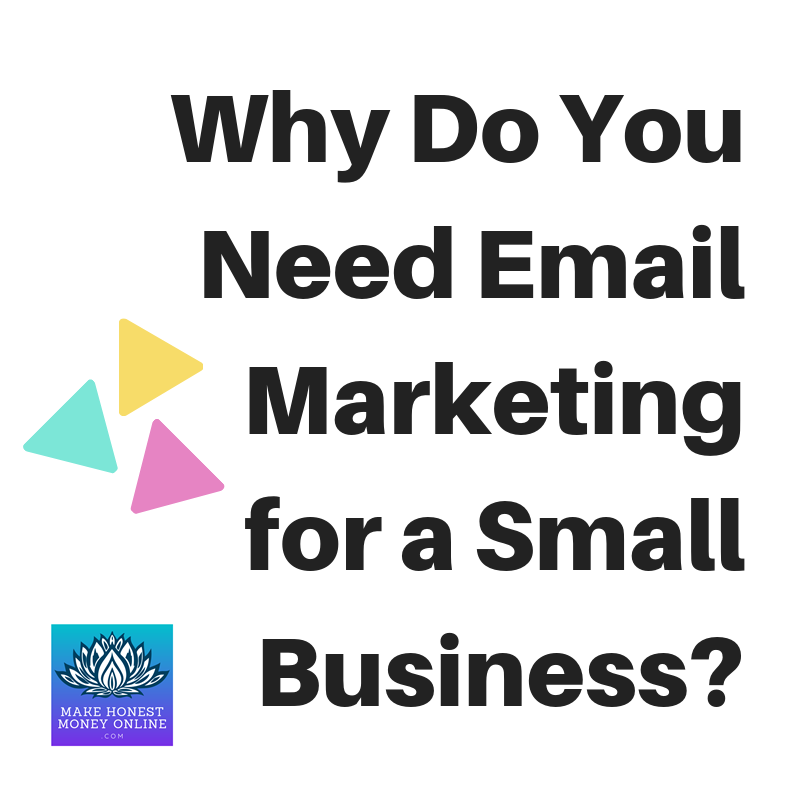 A small business will not forever be a small business if you utilize everything in your power to make it succeed and grow.
There are plenty of marketing strategies available that you can use to keep your small business thriving and even compete with other big businesses. One of the strategies that is used by small and big businesses is email marketing.
But why do you need email marketing for a small business? Email marketing can be a big reason for your small business' success.
An email marketing strategy is one of the most commonly-used online marketing strategies that every entrepreneur should consider for their business.
It can give your business a boost in terms of reaching the right target audience, increasing traffic to your website and ultimately increasing sales and profit.
This marketing strategy is applicable for both big and small businesses and it can pave a way for your business to build brand loyalty among your customers.
I will share with you the reasons why you need an email marketing strategy for your business and how it can help you to reach the success that you and your business deserve.
1. Low-Cost
This is the most obvious advantage of email marketing – cost. For a small business, every penny counts and any bad investment can affect the whole business.
But email marketing is not expensive. You will need to invest in an email marketing tool that is suitable to your needs and use that tool to reach out to your right audience and prospects. One tip for you to get the best out of your money that you invested into email marketing is to collect and build an email list.
2. Increase Conversions
Conversions are probably one of the small successes that your business can celebrate. A conversion is when you can convert a lead or a prospect to become a loyal customer or a patron.
Customers feel that they are given the attention and they are heard when you know how to make a compelling email message.
For a customer, it becomes personal when you try to give solutions to their problems and also interact with them. Customers want to feel that they are important, even through sending them updates of your business and products that they are interested in.
3. Increase Traffic
This is important to online marketing and SEO: increased traffic to your website. You can increase your traffic if you have an email list. An email list might just appear to be a list but if the list consists of the right audience, this can increase your traffic and later on, build brand loyalty, increase sales and income.
4. Easy to Measure and Track
One of the many advantages of email marketing is convenience. When you are using the right tools for your business, tracking the audience who take time to click, open and read your emails is an easy task.
You will be able to check whether your marketing strategy is working or not. You will be able to receive feedback from your readers on which part of your email campaign needs to improve and how you can be more effective in delivering content to your audience.
This is a helpful strategy if you want to continuously grow and improve your business.
5. Increase Brand Awareness
While being able to reach out to your target audience, your next step is to be able to increase your brand awareness; not just to your target audience, but also to other people who are curious of what your business is about. With the right content, smart designs and strategic planning, you can build brand awareness and every time your audience wants to purchase something online, your brand will be the one of the first ones on their mind.
6. Increase Sales
Why did you put up a business? Your primary reason is to earn and generate sales.
Will you be able to generate sales if you are not going to reach out to the right people? Maybe you can but possibly not the highest sales that you expect.
If you have an email list, it can help increase your sales. When you have established a brand, your clients would want to purchase from you first because you have already established trust. They would want to buy from you rather from your competitors; and it is the sales that you don't want to miss.
7. Communication on a Personal Level
Sending emails to your audience is not only a marketing strategy, but it is also a good strategy to build a professional relationship with your audience. Your target market will trust your business more if you know how to communicate with them.
And how will you do this? By catering to their questions, feedback, complaints and other queries.
Building a personal rapport between you and your audience is very important for your business to thrive and succeed.
8. Emails are Shareable
One of the best features of email is that it can be shared with anyone. Your business newsletter, updates and announcements can reach many people; even those who are not on your list.
Emails can be shared with anyone and if your shared email sparks curiosity, you might get additional people signing up to your email list. You will have a chance to increase your email list, simply through subscribers sharing your emails with others and ultimately, reaching a wider audience and potentially generating more sales.
9. Easy to Start and Implement
It's easy to get started and implement an email marketing strategy. There is so much information available online and there are great autoresponders available to help you get your email campaign off the ground.
Implementing an email marketing strategy in a business is becoming more and more important and something you should seriously consider.
It is not only your means of sending newsletters and updating your audience, but it is also a means of reaching your audience on a more personal level by communicating with them personally.
Email marketing builds trust and increases your credibility despite the competition in the industry that you are in.
If you'd like to continue reading on this topic, you might be interested in these articles:
Start building your email list today and please ask questions if you have any!
Edith

Sources:
webpresencesolutions.net/benefits-of-email-marketing-small-business/
smallbizdaily.com/7-key-benefits-email-marketing/
fatrabbitcreative.com/blog/5-key-benefits-of-email-marketing
pure360.com/10-benefits-of-email-marketing/
lyfemarketing.com/blog/benefits-email-marketing/