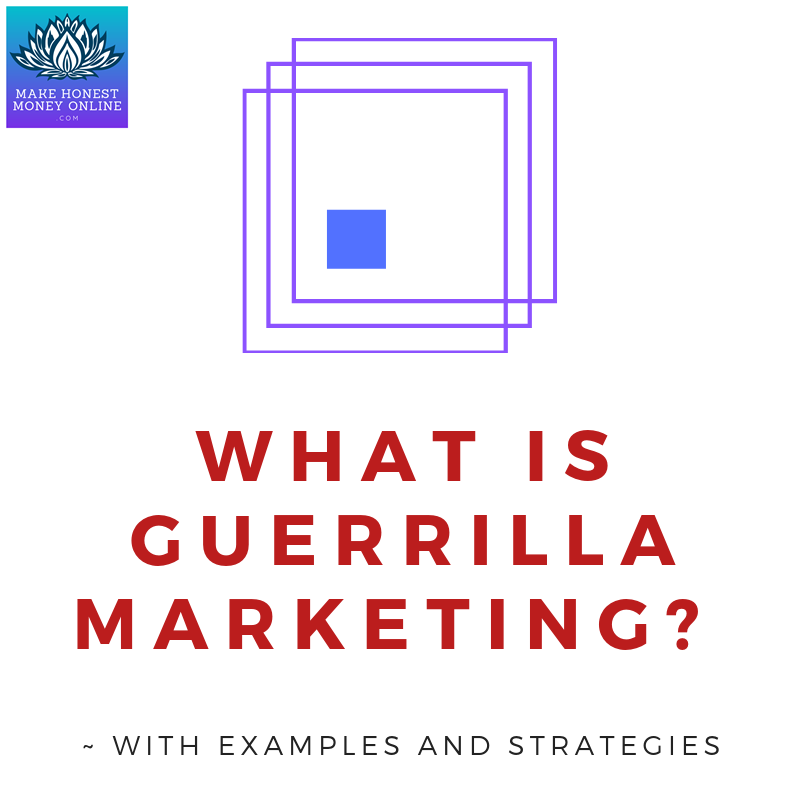 Have you heard of the term "Guerrilla Marketing"? When you are a business enthusiast, guerrilla marketing is a business strategy that you can use.
During the early days when the internet was not yet developed, the guerrilla marketing strategy was one of the most commonly used marketing strategies. It is said to be one of the oldest forms of marketing strategies that exists.
Even though guerrilla marketing is one of the oldest forms of marketing strategy, it is still effective today. There are businesses that still utilize this marketing strategy for their business and it has proven its worth.
It is effective; plus, it is one of the most commonly used strategies by small businesses that are facing budget setbacks and have less chance of advertising their products.
Guerrilla marketing is an unconventional way to advertise that aims to achieve conventional output. It was developed to help small businesses expose their brands using a low-cost strategy.
The methods used in this strategy are creative, so businesses invest more in energy, ideas and creativity instead of money.
Today, many common marketing strategies involve the internet, but before the internet was developed, these guerrilla marketing examples and strategies were and are still used.
1. Flash Mobs
If you think that flash mob was created to entertain, you might be wrong. It was created by an American company to advertise their product by hiring dancers and singers who went undercover.
We all know that flash mobs are often attention-grabbing and will sometimes encourage you to join in.
So how did this strategy become successful? As it made a headline, the company saved money to advertise since they became the "talk of the town" when the flash mob was made.
People who saw them took videos, posted on their social media accounts and the news featured them. Their brand spread by word of mouth and since they were the first one to do the flash mob, it is etched in the minds of the people that they started it and would remind the people of their brand. Genius, isn't it?
2. Street Propaganda
These are probably the most common in guerrilla marketing; yet an unnoticeable marketing strategy. You are probably walking down the street and found some graffiti on the street or walls of buildings.
You can appreciate the art, are likely to remember it and soon realize that the art you saw is not just an art but also an advertisement. This strategy aims to evoke the curiosity of the public and plant brand awareness.
This is commonly found in areas where there are plenty of people passing by. You will find some of this art in parks where there are benches 'made of chocolates'. So every time you find a bench, it is a possibility that you will remember that specific chocolate bar.
3. Stickers
You will probably think that stickers are for kids; but no, it is an unconventional way of advertising, too. You probably have purchased some gadgets in the past that give free stickers.
Often, they are found in computers or laptops. Using these free stickers will remind you of a brand wherever you go and it is an effortless way for them to advertise.
You will also notice stickers on glass doors of some restaurants or bars. As you open up the door you are always reminded of a brand that can attract your attention and will make you think to purchase it as you enter.
4. Discounts
As a customer, what is more attractive? It's receiving discounts from the items that you buy!
This is an unconventional way to advertise your brand. Discounts are often given by small businesses to a specific group to make them feel that they are privileged; and in return they will start talking about your brand.
So, this is advertising through word of mouth. It is proven to be effective since big companies are also doing this.
Giving discounts will help to boost sales as more loyal customers will be paying a lesser price but most of the time make more purchases from you.
5. Vehicles
You will often see arts in buses and taxi cabs. They are often painted with some arts that promote a brand or a product. Many companies do this. Although there is an investment involved in affiliating utility transport with a brand, advertising it using these vehicles is a more effective way to reach customers.
Often these arts are so attractive that you will remember them for a long time. It can also trigger you to visit their website to check what's new.
6. Pop-Up Shops
You may think that a pop-up shop is a ridiculous idea to advertise, but no! There are plenty of shops that would build pop-up shops to entice people walking past.
Usually restaurants, pizza places, and other food-related businesses are doing this marketing strategy. This strategy can evoke curiosity amongst its (potential) customers especially when they try to demonstrate their cooking skills, show them how they make their food and give out small free food samples to try.
People love to see how food is made and like to smell freshly cooked food coming straight out of the oven, particularly when they can try a free sample.
7. Community Events
You may think that supporting community events near your business establishment is only a philanthropic deed, but it can also be a marketing strategy.
This method will help you to build a relationship between your business and the community. You can offer prizes for raffles, sponsor an event or give out something for the public where your brand is embedded.
This will help you to boost your brand's popularity and generate more sales.
8. Random Act of Kindness
Who doesn't appreciate any act of kindness? Everyone appreciates it especially if it made people smile.
Laugh and bring positive vibes. If your business has a mascot, use the mascot to give free hugs and make kids happy.
Or maybe give out flowers to random people with a ribbon that has your brand in it. They are not very costly but can be very effective.
The Guerrilla Marketing Strategy is a fun way to promote a business. It is not only applicable to small businesses but to larger ones, too.
If your business is online, this marketing strategy can still be applicable. You just need to equip yourself with creativity and ideas to make this a reality.

Sources:
wordstream.com/blog/ws/2014/09/22/guerrilla-marketing-examples
ppcprotect.com/guerrilla-marketing-examples/
thrivehive.com/guerrilla-marketing-small-business/
wix.com/blog/2018/10/guerilla-marketing-examples/