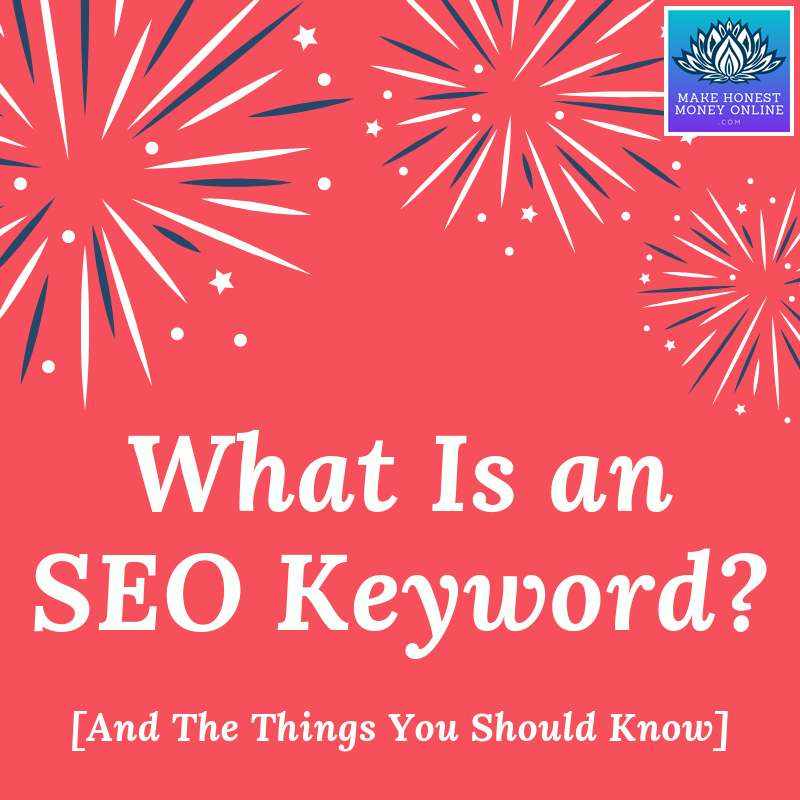 Are you familiar with search engine optimization or SEO? For those who write blogs, SEO is a common term. So what is an SEO keyword? An SEO keyword or keywords are ideas and topics that will help define your content. Most of the time, these are the words or phrases that searchers enter into the search engines when they are researching or searching for a certain topic. Sometimes they are also referred to as 'search queries'.
These keywords are important in the success of your content. They are used to improve the search rankings of your content as well as attract traffic and increase traffic to your site, as well. Majority of the blogs are using keywords or SEO keywords, to be exact, for their contents. The keywords are not only for research, but they are used to attract customers to a business. The more customers you attract, the more traffic and the possibility of higher earnings.
You are now aware of what an SEO keyword is and what it is used for. Now, let's discuss what the things are that you need to know about SEO keywords.
1. SEO Keywords Optimize Contents
It was mentioned above that using SEO keywords helps to increase the traffic to your content, and it is true. SEO keywords will help you optimize your content. Traditional terms used in describing products online have already evolved. As the technology and the internet evolves, so does the way the searchers use keywords in searching the internet. Using SEO keywords will give you a higher chance of making the content better and producing quality content ranking in search engines. It can also attract more customers or visitors to your website.
2. Keywords are Clues
Keywords are important for any content, more so if they are SEO keywords. SEO keywords are your clues when you are researching and writing for your website. As a content owner, SEO keywords are one of the most important parts of the content. When someone is searching the internet, as a content owner, we have no idea what the audience is exactly looking for. But if we use the keywords as clues, there is a big chance for them to find your content as they search the web. SEO keywords are a powerful market research tool, not just to inform about the website content, but they can also be leveraged in other ways.
3. SEO Keywords and Your Business
As mentioned previously, SEO keywords are an integral part of your content. If you are an entrepreneur or a digital marketer, online content is one of the most important parts of your business. This online content does not refer to blogs only, but to the descriptions of your products as well.
Search engines are the link between your business and your target customers and you need to know how you can connect with them, and one way is to be able to take a step ahead of your audience by using your keywords. Your target audience will use words or phrases as they search for products or services that they need. They will most likely choose those that will give them the most relevant result for what they are looking for. With this in mind, you need to know exactly what the words are that your audience is using in search engines.
4. Long-tail Keywords are Helpful
As we talk about keywords, there is one specific type of keywords that will help you optimize your content further. This is called the long-tail keyword. The long-tail keyword is a keyword that has 3 or more words in it. SEO is important for contents, but using long-tail keywords can help boost SEO. Long-tail keywords are helpful because they are a more specific type of keywords. If you use a single word keyword, chances are slim for the audience to find your content. Since long-tail keywords are more specific, they are more effective. Customers are very specific when they search, so using long-tail keywords can cater to the specifics that your target audience is looking for and it can also help you to get ranked in search engines faster.
5. SEO Keyword Placement Can Make a Difference
Understanding the importance of SEO keywords is vital in increasing your website traffic. It is also an integral part of a business to attract customers. But just using SEO keywords is not enough to attract and increase traffic, placement of the keyword is also an important factor that you need to consider. Keyword placement can make a difference in the ranking of your website and individual posts. Keywords are not just put anywhere in the content, but there are proper places to where the keywords should be added.
The most important places where to include your keywords are:
Post Title
Within the First Paragraph of Your Post
Meta Title
Meta Description
Website URL
Image Descriptions / Alt Tags
Click here if you'd like to read more on keyword placement and search engine ranking factors as it is important to be familiar with the proper placement and process to attract more attention.
6. Use Keyword Research Tools
Keywords are a set of words or phrases that most of your website audience uses. But finding out what the audience uses is not easy; that is why there are research tools that you can use to look for keywords that can get you higher rankings. Some of these research tools are
Google Adwords Keyword Planner – probably one of the most commonly used keyword research tools. This tool helps you to evaluate the search volumes of keywords and competition level. It can also give you an estimated cost per click.
SEMrush – another keyword research tool that will help you find keywords that are related to your content or niche.
Ahrefs – a keyword research tool that will give you a complete service for keyword search, content and SEO tools.
Jaaxy – I personally use Jaaxy and can recommend this, particularly if you are in the affiliate marketing niche. When researching a keyword, Jaaxy displays

the average number of searches a keyword receives in a month
visits to your website if you achieve first page rankings in search engines
QSR / Quoted Search Results: the number of competing websites ranked in google for that particular keyword you are searching for
Keyword Quality Indicator
SEO score – indicating SEO performance
whether related domains are available for purchase
Jaaxy offers many more features including searching for affiliate programs, saving keyword searches to lists, using 'Site Rank' (checking where your keywords currently rank within google, bing and yahoo search engines) and the ability to do research via 'Alphabet Soup' and 'Brainstorm'.
Content becomes attractive and appealing to an audience if you know how to use your SEO keywords. It is important that when you build a website and create content or trying to reach out and promote your business and products, that you pursue proper keyword research first so that your content can be found. When doing searches, you are looking for a high search volume but low competition. By using this method you will have more chances for increased traffic and attracting target audiences.
Do a research on Jaaxy now to see whether your targeted keyword has not only a high search volume but also low competition.
And this is a bonus for you:
Jaaxy is part of Wealthy Affiliate (which is an amazing platform in itself and you can read about it here). You can join Wealthy Affiliate for free and use Jaaxy at the same time. If you are a starter member, you can do 30 free searches and if you decide to upgrade to a premium member, you can use Jaaxy in its lite version for free. This is pretty cool. I'd suggest you checking out Wealthy Affiliate as they not only offer a keyword research tool but also advanced and secure hosting and training on how to run a successful online business. There is no risk involved as all you need is an email address and if you feel the platform is not for you, you can always close your free account.
And please contact me if you have any questions.
Edith

Some of the links within this post are affiliate links of which I receive a small compensation from sales of certain items. There is no additional cost to you. If you purchase through one of the affiliate links, you are helping to keep this website running.