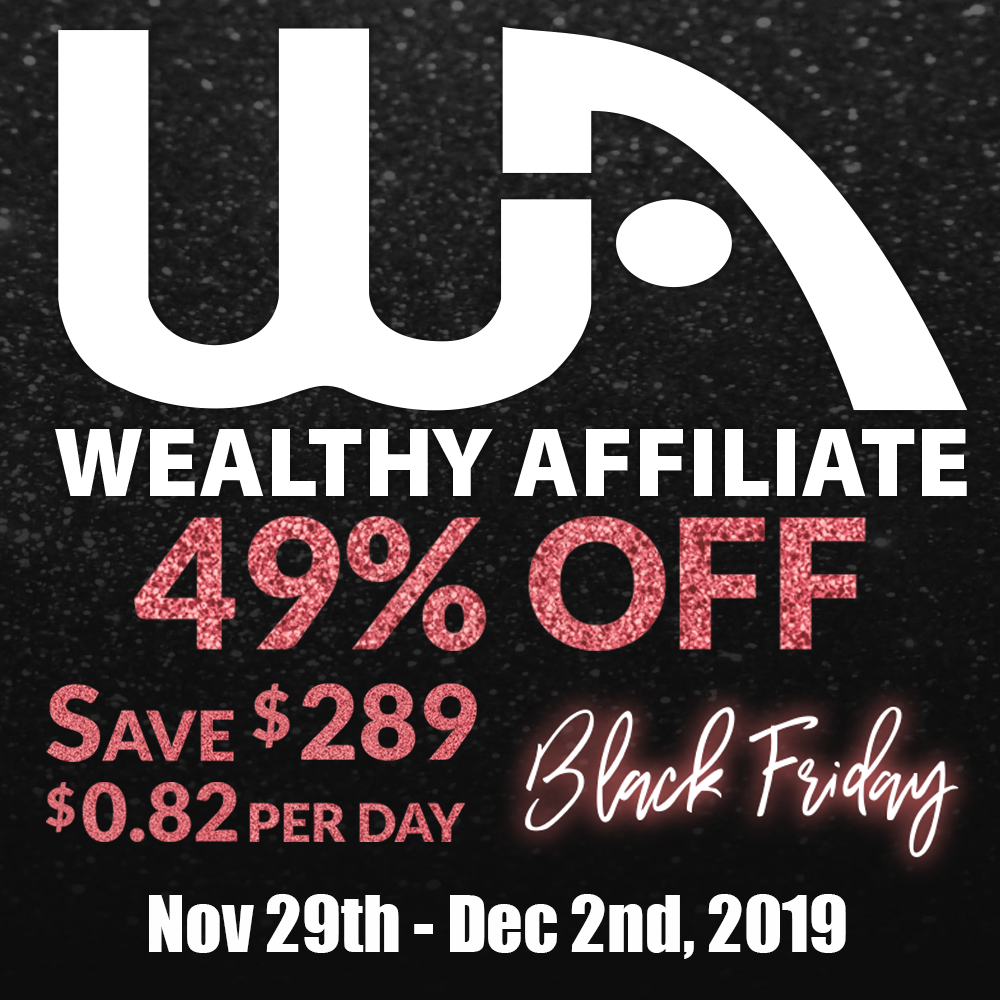 *****UPDATE: While this offer is now expired, Wealthy Affiliate does offer a good deal on their yearly membership which saves you 39%  or 20% on a six-monthly membership compared to their monthly membership. If you are interested, click here.*****
*****UPDATE: The Wealthy Affiliate Black Friday Special has just been extended by 3 days.*****
Have you heard about the 'Wealthy Affiliate Black Friday Offer'? It runs from Friday, 29th November to Monday 2nd December 2019.
To be precise, it will launch at 7am PST on Friday, 29th November and end at 11.59pm PST on 2nd December 2019.
And it's the best deal you can get for the premium membership for Wealthy Affiliate (or WA) in short.
Over these 4 days, the yearly membership will be $299.
That is $0.82 a day and there are four amazing bonuses included this year:
Bonus 1: Kyle will be holding a Live Class called 'The Path to Affiliate Stardom in 2020'
Bonus 2: Kyle will send you a copy of his WhitePaper 'Building an Incredible Internet Business in 2020'
Bonus 3: Live Training on 'Creating a Thriving Authority Website in 2020'; spread across 5 weeks
Bonus 4: Yearly Members will also get Beta Access to New Platforms in early 2020
Extra Bonus:
Bonus 5: (and this is my bonus to you): I will be helping you as much as I can once you take up WA's special offer
If you are ready to take up this amazing offer, go to this page:
Wealthy Affiliate Black Friday Offer 2019
If you would like to read more about Wealthy Affiliate's Black Friday offer including answers to frequently asked questions, you might be interested in this post that was written by Kyle, the co-founder of WA.
Kyle's Blog Post – Black Friday 2019
And if you'd like to read more about Wealthy Affiliate itself, including some success stories, these posts might be of interest to you:
Wealthy Affiliate is an amazing platform where you can access training to get your online business going. It includes hosting and a wonderful supportive community that is ready to help when you need it!
Please let me know if you have any questions!
To your success,
Edith

Some of the links within this post are affiliate links of which I receive a small compensation from sales of certain items. There is no additional cost to you. If you purchase through one of the affiliate links, you are helping to keep this website running.