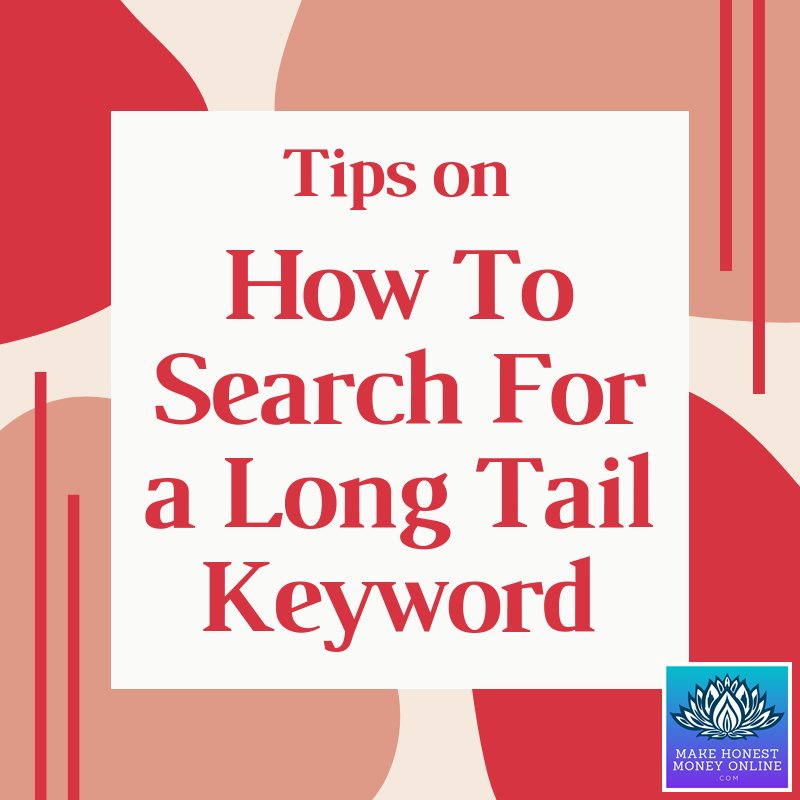 What is a long-tail keyword? Where do you use long-tail keywords? How to search for a long-tail keyword?
For those who are not familiar with search engine optimization or
SEO
, a long-tail keyword is just a term. But for those who know what SEO is and what a long-tail keyword is, know that they are important; and most probably the most important part of SEO.
What is a long-tail keyword?
You may have heard about SEO keywords, and yes, long-tail keywords are part of them. Long-tail keywords are keywords that are more specific than shorter or more generic keywords. The reason is that they are more specific. Usually, they are made up of at least three words. The term itself originates from the graph when you compare short keywords that have high search volume and a low conversion rate compared to longer keywords that are more specific, have lower search volumes but higher conversion rates.
In terms of SEO ranking, long-tail keywords are easier to rank for than using shorter keywords or generic keywords. These keywords are sometimes referred to as the head keywords. One of the reasons why using head keywords is difficult to rank for is because they are very broad and most of the time the competition for broad keywords is very high.
For a new website, using long-tail keywords is the best method. Not only because these keywords are specific, but most of the time the number of competition is lower, which gives you a higher and faster chance to rank high in search engines.
Here are ways on how you can search for long-tail keywords to generate traffic.
How to Search for Long-Tail Keywords
1. Use Your Browser / Search Engine (Alphabet Soup)

The most common search engine that everyone uses is Google. Whenever you type something into the search bar, Google has an auto fill feature. When you are having a hard time coming up with a long-tail keyword, you can use this method which is also referred to as 'Alphabet Soup' at times. This method will give you insights on which keywords are less popular but more specific. You will find a lot of keywords but will have a hard time collecting them all. Using a keyword research tool is still the most recommended method as covered in number 3.
2. Make Use of the Related Search Terms
The related search terms are usually found at the bottom of the search pages. In google browser, they often have a few suggestions for you based on the keywords you typed in the search bar. Look for the keywords that are related to your targeted keyword. You can try other keywords that relate to the same topic, too.
3. Use Keyword Research Tools
In SEO, the usage of tools is very common. Keyword research tools will help you to look for competitive keywords. They can show you the search volume of the keyword and other data that is essential in driving traffic to your website. Read my article here about some of the best keyword research tools, where you can also do a keyword search straight away!
(And read to the end for a bonus!)
4. Analyze Your Competitors
We know that to rank high in traffic, you need to compete for the position and the rank. In order to do that, you need to analyze your competitors' methodology. Whether they are seasoned websites or newbies, if they have ranked high and reached the first page of the search engines, it means they are doing something right. Go over their content and you will find ideas for long-tail keywords within their content. In doing so, you might outrank them in the near future.
Using long-tail keywords, especially if you are just starting, is a must.
Just because long-tail keywords are specific and have less competition, it does not mean that you can just easily use them without properly analyzing how much traffic they can generate. This is why a keyword research tool is very important.
For you to be able to optimize the use of long-tail keywords (and ultimately improve SEO rankings), you should do the following:
Only target one (long-tail) keyword per article. Search engines might penalize you for using more than one keyword per article.
Use your long-tail keywords in specific parts of your content to optimize it. It will be more effective if your keyword will appear in the title and somewhere within the first paragraph. It will help to increase your ranking and there is no need to repeat the keyword after that (unless it occurs naturally) as this might be considered as 'keyword stuffing' and search engines might ultimately lower your rank.
Use the keywords naturally in your content. Your usage of the keywords must be smooth as your audience reads your content. Ensure that your content readability flows as you don't want your content to sound awkward. And stick to what is important – readable and informative content that makes grammatical sense.
But why is it recommended using them instead of head keywords? Here are a few reasons why content creators are likely to use long-tail keywords.
Reasons Why It Is Best to Use Long-Tail Keywords
We know that, in SEO, the right keywords are vital. If you choose to use long-tail keywords, here are some of the reasons why they play an important part in increasing your website's traffic.
Higher conversion rates.
As mentioned above, the conversation rates are higher for long-tail keywords than for head keywords.
They are easier to rank for in search engines.
Again, as mentioned above, long-tail keywords are easier to rank for because they are more specific. There is less competition than using head keywords.
Advertising is cheaper.
When you are using long-tail keywords, they often have lower search volumes. When the keyword has a lower search volume, they are usually cheaper in advertising compared to competitive keywords.
You are addressing a more specific audience.
If you are using long-tail keywords, you are more specific in terms of your audience and their searches online. When someone 'searches for' your keyword, it means that they are looking for something specific, ultimately narrowing down their search and possibly increasing chances that they will purchase something or sign up to an offer.
It is the same thing like grocery shopping. If you specifically need milk, you would immediately look for the milk aisle when you arrive at the grocery store – rather than going through all of the aisles and search for items to buy.
You are offering more value to your audience.
This is in line with number 4. While your audience is searching for something specific, you are consequently also offering them more value and possibly a solution to their problems.
Long-tail keywords are an important part of your content. They are a very important aspect for your website's ranking and position on the search pages.
If you would like to learn more about SEO, long-tail keywords and how to improve your ranks in search engines, I suggest that you check out 'Wealthy Affiliate'. Wealthy Affiliate offers training that you can start for free on:
Using Long-Tail Keywords
How to Rank Your Articles and Gain Free Traffic to Your Website
And much more!
Not only will they teach you the above, they also offer secure hosting and lots of support when you need a hand. Wealthy Affiliate is one of the most advanced platforms within the making money online world.
Read my Wealthy Affiliate review here!
And as always, contact me or leave a comment below if you have any questions.
Edith
P.S. And here is a bonus for you:
Wealthy Affiliate has a keyword research tool integrated, which means that you can use it for free (30 searches) when you join Wealthy Affiliate (again, it is free to join Wealthy Affiliate). All you need is an email address to get started on your online journey to success. Let me know if you have any questions!

Sources:
semrush.com/blog/how-to-choose-long-tail-keywords/
ahrefs.com/blog/long-tail-keywords/
keap.com/business-success-blog/marketing/seo/how-to-find-long-tail-keywords
unamo.com/blog/seo/eight-ways-to-find-long-tail-keywords