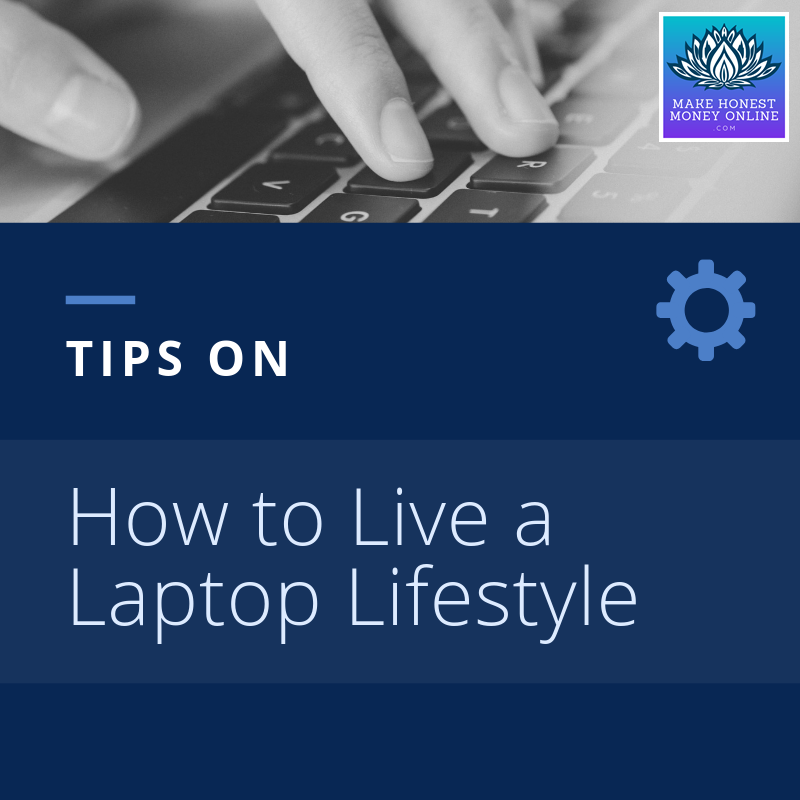 Have you heard of the laptop lifestyle?
It's running your own online business, utilizing your laptop and basically working from anywhere you like to be (considering you have an internet connection).
This can be in the comfort of your home, while you are travelling or working remotely. The laptop lifestyle is one of the common lifestyles nowadays but there are still a lot of people wondering how to live a laptop lifestyle.
There is plenty of work and online opportunities available that you can take advantage of in order to work from your laptop and for it to become your main source of income.
While some people continue working for another company, there are also online business opportunities that you can start in order to live a laptop lifestyle.
People might think that when you live this kind of lifestyle that you are limited; but the exact opposite is the case.
Let's look at some advantages before we discuss how you can live a laptop lifestyle (and keep reading in order to find out about my number 1 recommendation).
Advantages of Living a Laptop Lifestyle
Many people will tell you to switch to a laptop lifestyle and you'd probably be in doubt whether you can achieve success with this kind of lifestyle.
If you aren't aware of the advantages of living a laptop lifestyle, here are some of the benefits that might help you understand why so many people opt to change into this lifestyle.
1. Flexible Work Schedules
One of the many advantages of living a laptop lifestyle is the schedule.
If you work in an office, you have to wake up early, get ready for work and travel to your workplace.
Whereas in this lifestyle, you can work the hours you like, as long as you are committed and work the required hours on your online business.
Whether you start working at 9am in the morning, 2pm in the afternoon or prefer to work late at night, it is your choice, as long as you invest enough time and effort into your online business.
You can choose to work weekends, take week days off, travel or go on a holiday when it pleases you.
The time you spend travelling or working in an office will be converted to time spent with family, friends and other important events that you need to attend to.
2. Run a Business
Today, many successful entrepreneurs have adopted a digital lifestyle.
If you plan to build and run a business in a traditional way, there are plenty of things you have to do and most of your time will be spent waiting for a customer.
But if you start a digital business, you can always run your business with the use of your laptop.
Wherever you may be, you can manage your business, conduct a meeting and do business planning on your laptop.
This is one of the reasons why many entrepreneurs love living the digital lifestyle.
3. Freedom to Do What You Like
If you are working in an office, you have set times you have to work, limited amount of vacation days in a year and company rules and regulations to adhere to.
But the digital lifestyle will allow freedom in regards to this. As discussed above, you can choose the hours you work and you can choose where you would like to work from. You can work on your balcony, while taking care of your dog or while on a trip visiting your friends.
You can always bring your work with you wherever you go and attend to all matters in your business or job.
You can engage with your hobbies, spend time with your loved ones and still attend to work.
4. You Can Be Your Own Boss
If you start your own online business, you have no other boss than yourself. You are not going to report to anyone but yourself.
You are your own boss and you can make the decisions. You can take full control of your business and your own life.
You have the possibility to earn more than a fixed income and grow your business to become more successful and thriving.
How to Live a Laptop Lifestyle?
If you are thinking that you cannot thrive with this kind of lifestyle, think again.
Everyone has doubted in life but most succeeded because they tried, worked hard, learned the required skills and put in dedication. If you don't try, you will not know what others feel living this lifestyle.
Here's how you can thrive and live the laptop lifestyle.
1. Invest in the right tools
The most important investment for this lifestyle is, of course, a laptop or a desktop computer.
This is going to be your business and for your lifestyle to be digitalized, you need your computer and gadgets.
Your gadgets, your computer, an internet connection and all its accessories are the extension of your online business; and wherever you go they go with you as you need to utilize them in order to run your business.
2. Find a Legitimate and the Right Online Business Opportunity for You
You need a legitimate online business opportunity and one that is right for you. You need to do thorough research in order to find an opportunity that you want to invest into.
Success won't happen overnight; and if you are dedicated to build an online business, you need to be willing to invest time.
This is the case with both an online or offline business if you wish to be successful.
There are many opportunities available online and you might like to read some of these posts:
My Recommendation
My number 1 recommendation is to build an online business with Wealthy Affiliate. Wealthy Affiliate is a legitimate platform, currently hosting a community of over 1.9 million members.
Wealthy Affiliate (or WA for short) offer training on how to start and build an online business while creating your own website and monetizing it. They also offer advanced and secure hosting for your website/s and support is available 24/7.
WA offer their first 10 lessons for free which I think is pretty amazing. This way, you can check them out and see whether the platform is right for you. In addition, you will have your own website up and running on a free siterubix domain, which is the foundation for your online business.
As said above, support is available 24/7 through the platform itself as well as through the community that is very dedicated to offer support and assistance if you need it.
Wealthy Affiliate has been operating for over 14 years and if you'd like to read more about them, you might be interested in these posts:
3. Work Hard, Be Committed and Dedicated
Whether you are starting an online or offline business, you need to work hard, be committed and dedicated.
Ensure that you do proper market research first in order to find the right niche for your online business and then be willing and excited about investing time and dedication into your new business.
4. Have Patience and Learn From the Experts
While setting up your new business, you also need to have patience.
Success does not happen overnight, nor in a week or month.
It is also important to have proper training, acquire the right set of skills and knowledge, ask questions, follow expert advice and learn from successful online entrepreneurs.
You will also need to do research on local and national business and tax laws that apply in the country you live in.
5. Keep Healthy
When you are living a laptop lifestyle, you need to bear in mind your health. No one can thrive in this lifestyle if you are not living a healthy lifestyle.
Ensure that you eat a healthy diet, exercise regularly and not give in to a sedentary lifestyle.
Do a bit of research of how you can remain healthy and fit when working from home.
6. Ensure a Positive Work-Life Balance
While living a laptop lifestyle and working from home, it is pertinent that you also have a healthy work-life balance.
Take a break and rest. Read a book if you feel like it and distress if you need to. Catch up with friends regularly and make sure that you spend enough quality time with your family and loved ones.
It's important that you not just work and work but also allow your body and mind to take some rest, recharge and enjoy life.
While the laptop lifestyle gives you the opportunity to travel more than if you are employed and working for a company, consider going on a holiday, take time off and not work, from time to time. Plan ahead to ensure that your business continues to thrive if you take a week or two off.
There is plenty information available online on how to have a healthy work-life balance when working from home, so do a little research.
7. Have Internet Connection
One of the most important factors is to have connectivity. Apart from your computer and gadgets, having an internet connection is important. It's your only way to connect with your customers and clients if running on online business.
Having an internet connection is your way to manage your business and make a profit, so having connectivity where ever you go is as important as having your gadgets (unless you are on a well-deserved break).
You may be afraid to take the risk to try to set up an online business to live a laptop lifestyle but you won't know if you'd be successful unless you try. Be dedicated and committed, work hard, have patience and invest into the right training, tools and opportunity to see whether you can be successful.
My recommendation is to join Wealthy Affiliate for free and see what they can offer you.
And if you have any questions, please contact me.
Edith

Sources:
bossbabe.com/how-to-live-the-best-laptop-lifestyle-2/
themillionairedropout.co/livingthelaptoplifestyle/
bruno-buergi.com/six-commandments-of-the-laptop-lifestyle/
denisewakeman.com/your-service-business/laptop-lifestyle/
forbes.com/sites/stephanieburns/2019/06/14/4-golden-rules-for-living-the-laptop-lifestyle/