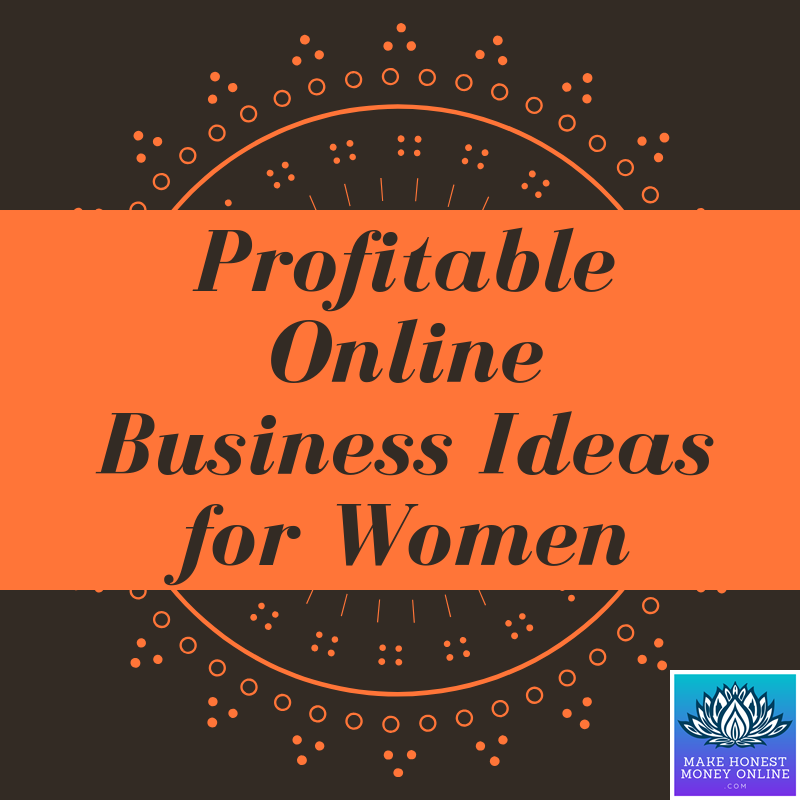 Women today are business-minded people. I think, gone are the days when women 'just' stay at home, care for the children, cook food and clean the house. When women stay at home today, they also engage with other things that keep them busier other than just clean the house.
Women are now starting to have businesses online, and this article is dedicated to sharing with you some of the profitable online business ideas for women.
A business is not only seen on the streets, neither is a physical business establishment needed. Businesses are flourishing online, too, and it's not only for men to put up a business. Women are now involved in the business, marketing, and finance world, as well. In fact, there are plenty of female entrepreneurs who are dominating the online world. With a simple start of business ideas, any woman can have the business she wants to put up.
Here are some online business ideas that women can profit from:
1. Handmade Crafts
It is known to all that women are creative, especially when it comes to handmade crafts. Women can make things out of a paper, a thread or just about anything they find around the house. One of the thriving businesses in the online world is handmade crafts. There are websites that are solely dedicated to crafts made by hand. Anyone can sell from these online platforms and earn. You can sign up to these websites and sell their handmade crafts, vintage items or handmade jewelry. Surely this is one business idea that will keep a woman busy, creative and earning at the same time. If you are interested in selling your handmade crafts online, read my post here about 'Where and How To Sell Handmade Crafts Online' including an opportunity where you can start building your own website for free.
2. Jewelry Business
Apart from handmade crafts, women are also fond of making jewelry products such as bracelets, necklaces, and rings. One of the profitable business ideas that any woman can try is selling jewelry online. It does not have to be gemstone, gold or diamonds, but simple jewelry made of beads or other material can also be sold. Women, in particular, would love to wear handmade jewelry; not to mention that some fashion industries also invest in hand-crafted products.
As mentioned in number 1, I encourage you to read my post 'Where and How To Sell Handmade Crafts Online' if you are interested in starting to sell your own jewelry, either on online platforms or your own website.
3. Travel Agency
If you like traveling, why not consider starting a travel agency business? There are some travelers who want to go to places but are not sure which particular places to visit. As someone who loves traveling, you can help them by starting a travel agency. You can propose an itinerary for them where they can visit and enjoy their time. You don't need to have a physical office for this type of business, but having one is helpful to prove credibility and existence. But having a travel agency can also be done online, and it would be less expensive for you and your clients to plan out their next trip.
4. Accountant and Accounting Services
Accountants are not only found in offices or accounting firms, but accountants can also work online. There are plenty of entrepreneurs who are looking for accountants who can manage their finances and do bookkeeping for them. This is a business where women can earn and have opportunities for ongoing professional development.
5. Yoga Trainer
For women who love yoga, you can share your expertise by becoming a yoga instructor. This is a good online and offline business idea because you are doing something that you love  and, at the same time, you are sharing your passion with other people. Not to mention that you are also earning from what you love doing. You can produce yoga training videos and sell them to your clients. You can also conduct a yoga training by advertising through your website and conducting yoga classes. Either way, you can utilize the internet in conducting yoga training while maintaining your health and wellness. If you are considering building your own yoga website, read my article here.
6. Freelance Writing or Blogging
Women are creative in general. Any woman who has a passion for writing can start a freelance writing business and earn from it. Freelance writing does not necessarily mean that you to have a degree in writing and journalism. If you are able to write valuable and compelling content, writing can be your form of business. There are lots of businesses who outsource writers for their blogs or companies who outsource get academic papers and technical papers written on their behalf.
You can also earn a passive income if you have a blog site of your own. Either way, freelance writing or blogging are good business ideas for women who want to work online. If this is an option for you, read these articles about freelance writing and blogging:
7. Online Affiliate Marketing Business
In today's technology, there is no doubt that the digital business industry is dominating. There are plenty of advantages in having an online business, and affiliate marketing has become so popular that both men and women, even younger ones are venturing to it. For a woman who wants to start an online business, affiliate marketing is one of the most profitable options. Affiliate Marketing offers a diverse option of businesses / niches that you can start in. Check out my 'Simple Guide on How To Make Money From Affiliate Marketing'.
8. E-commerce

In line with number 7, e-commerce has also become very popular within the online world. It is not only about selling and buying, and you don't necessarily have to have a big investment either. In fact, some e-commerce businesses can be started with zero investment and still have the potential to earn. There are plenty of options in e-commerce – you just need to find which one is best for you. If you are interested in starting an e-commerce store, why not read my article here that explains how you can build your own money making website.
9. Online Influencer
This might be another popular online business idea for both men and women. Being an online influencer means that you get to influence other people on what you do and what you use. Some online influencers are found on YouTube or they influence their audience through their blogs.
Other ideas
Translating
Resume writing
Consulting
Creating websites / web designing
Graphic designing
E-Book Writing
The internet is evolving every day. In the past, we found businesses in establishments or business capitals only. But today, businesses can start at the comfort of your home. You can still do business and provide the same service to your clients and customers wherever you are around the world. For women to have an online business means they can still earn and do their duties at home. It also gives women the opportunity to earn an income while they are able to spend more time with their children and family which is very important when children are growing up.
Share your thoughts and ideas in the comments' section below. Can you think of any other online business ideas for women? I would love to hear your thoughts and which journey you are considering venturing on!
Edith

Sources:
smallbiztrends.com/2016/01/fun-home-based-business-ideas.html
enlighteningwords.com/small-business-ideas-for-women/
moneynuggets.co.uk/small-business-ideas-for-women/
theworkathomewoman.com/99-work-at-home-ideas-women/
theincomespot.com/small-business-ideas-for-women/
sheroes.com/articles/business-ideas-for-women/Njk2Mw==