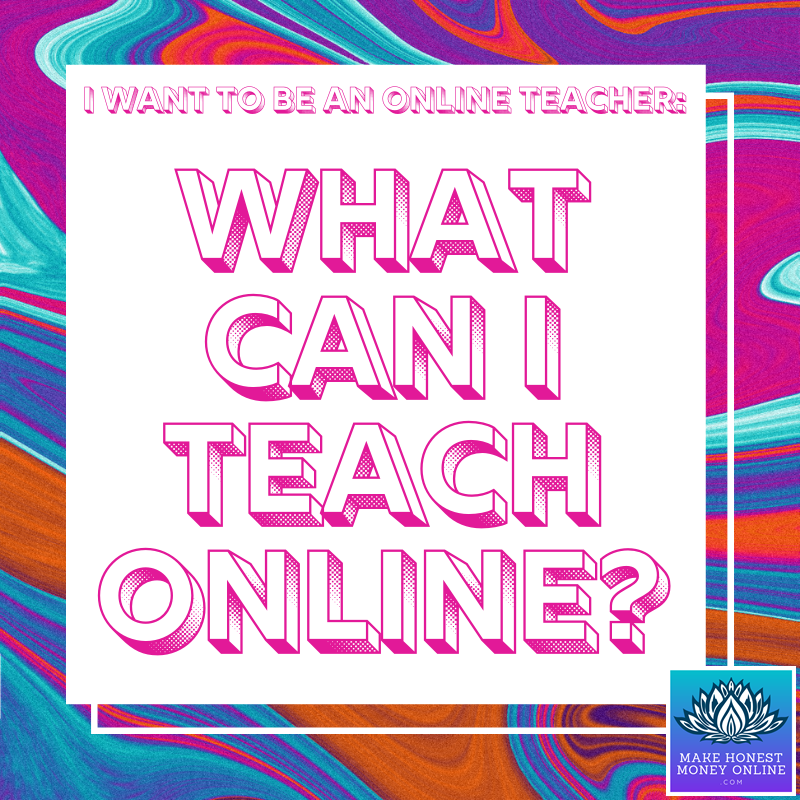 Teachers, they are one of the most important people who help mould us to become who we will be in the future. They are the people who love us like our parents and teach us life lessons as well. But teachers are not only found in classrooms, but they can also be found at homes, their own homes. Today, online teachers are trending and if you want to be one, probably one question that lingers is, "What can I teach online?"
Online teaching is a popular job almost everywhere. The same concept as teaching in schools or universities, the teacher must and should impart knowledge and learning to his or her students. It does not have to be a formal class like what we have in schools, but formal enough for students to learn.
Why should I teach online?
We all know that there is always a need for teachers, whether a school teacher or home tutor. Online teachers serve as online tutors and as an online teacher you are imparting your expertise to students who want to excel in a specific area of learning. So why should you teach online? First, teaching online is convenient for both the student and the teacher. That is because you do not have to travel and all you need is an internet connection and a computer. Second, the one-on-one study will give the teacher the undivided attention and concentration to the student. The student is able to focus on the subject and have a better learning environment.
Who can teach online?
Another question asked by those who want to embark in teaching online. Technically, anyone can teach online. You don't have to be a registered teacher to be able to teach online. If you are a university student or someone who is an expert in specific area, you can teach online. Teaching online does not depend on your educational level, but your knowledge of a specific subject. Whether it is a technical or creative subject, music, language or school subjects, all this can be taught online on the right platform.
Some platforms do require a certain level of education or process of a specific application procedure, so make sure that you read the eligibility requirements for each platform you are interested in teaching at.
What can I teach online?
You can teach just about anything online, but you need to be knowledgeable in what are planning to teach. There might be no restrictions in who and what you can teach online, but you have to take into consideration who you are going to teach and what they want to learn.
Here are some ideas of what you can teach online:
1. Teach Handicrafts
We know that making handmade crafts is a hobby for some. Also, these handmade crafts can become a source of income as well. If you are someone who loves to make handmade crafts, you can teach online. There are lots of people who also have the same interest as you but do not know where to start. Sharing your hobby and techniques will be a big help for some people. You can offer courses online, or have a one-on-one session with a student. You can create your whole course online and those who enrolled in your classes will be the select few who can access your tutorial videos. Your hobby can be a source of income as well as an avenue for you to teach other people. Craftsy and Udemy are a couple of platforms that you might like to look into.
2. Teach English
The English language is the universal language, but there are other countries that are not as articulate in speaking the language as yet. You can become an Online English Teacher teaching ESL or English as a Second Language. Some platforms require you to be a native English speaker while others require a TESOL certificate and/or university degree in addition to it. Most of the students who learn ESL are little kids that their parents want them to learn English. Also, some business people who need to interact using the English language.
Teaching English online is one popular online job. Depending on which platform you decide to teach from, the pay rate is reasonable as well and can be very convenient for you as a teacher. Also, you don't have to teach for 8 hours as the session usually lasts for an hour or less only. Some platforms let you choose how many hours a day/week you would like to teach. Teaching English online can be very rewarding as you are helping individual people learning the language.
3. Teach Science
If you are a graduate of any science courses you can teach it. If you graduated with a course in chemistry, there are many students across the globe who need help with their chemistry subject. Not only chemistry but other branches of science are other options. Just like teaching English, teaching science subjects does not always require you to be an expert on the subject. There are online organizations that cater to this kind of teaching. When you try to be a part of the team, you are assessed to know what will be your expertise and focus of teaching.
4. Teach Mathematics
It is not only English or Science that can be taught online but also Math. There are groups that teach Math online and if you apply as one of their teachers, you are assessed based on your knowledge and expertise. Usually, when you teach Math online, it can be less interactive compared to English classes. Usually what online Math teachers do is give the student a problem to solve, then the student will give the answer with the solution. On the other hand, the teacher would show the correct solution to the student. We know Math does not necessarily need much talking as solutions can be shown. Thus, communication is sometimes done through messaging.
5. Teach Your Students How to Cook and Bake
We all love to eat and have some desserts but many of us have the difficulty in cooking and baking. If you have the skills in cooking and baking, you can teach online. You can start a course where you will teach the step by step procedure of a recipe to your students. Many online cooking courses are based on modules or video modules. All the students have to do is sign up and pay the necessary payment and they can access your course. But teaching cooking and baking is not always the most convenient since you also need to invest money with your ingredients and your modules.
6. Teach E-Commerce Courses
We are now living in a digital era and everything is on the internet. One of the courses you can teach is e-commerce. E-commerce itself is very broad but it also has its "branches". There are many online teachers or gurus who teach e-commerce. But before you teach, you need to be an expert yourself as you will be dealing with students who also want to earn a big income. Some of the e-commerce courses being offered are drop shipping courses, ebook courses, blogging, affiliate marketing, etc.
As you can see, these are just a few ideas to what you can teach online. There are many different kinds of teaching jobs you can do online.
7. You can also teach:
Music
Playing an instrument
Singing
Photography
Design (Fashion, Interior, Digital)
Meditation
Mindfulness
Yoga
Pilates
Dancing
IT
Pet Care
Other Languages than English
Programming
Creative Writing
Aromatherapy
Drawing / Painting
Coding Apps
The easiest way to determine what would be applicable for you is by assessing your skills, the demand and your passion. When these three factors are present, teaching online will be a breeze for you and benefit both you and the student.
Instead of using platforms to teach as mentioned above, other options are creating your own website where you can sell your courses or uploading them to YouTube, which is sometimes also referred to as vlogging. Click here to read more.