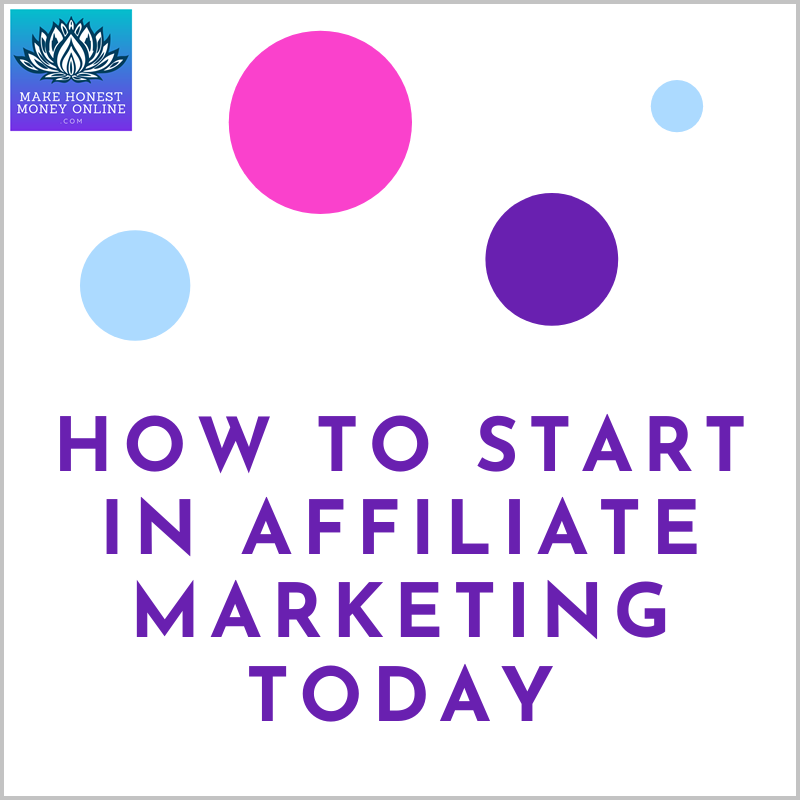 Affiliate marketing is one of the things that can give you a passive income stream.
If you own a website, write blogs or create video content, you can monetize your website via affiliate marketing. Often, we hear questions asking 'How to start affiliate marketing today?'
This article can get you started today, outlining the basic structure of starting in affiliate marketing as well as giving you a recommendation at the end of the article on how you can enter the world of affiliate marketing today inclusive of starting your training today for free.
Affiliate marketing is a business opportunity that can help marketers and entrepreneurs make money by referring people to buy products from a third party. The marketer earns through a commission of a referring sale. A company will give you, the marketer, a specific link that you can include in your blog content or videos. Once you promote the product or service of the company and your audience uses your link to make a purchase or make use of a service, you, as the affiliate marketer, will earn a commission.
This can be a good source of passive income that can lead to many opportunities in the future. If you are planning to start affiliate marketing, these tips will help you take the first step.
1. Create a Website
As mentioned, affiliate marketing happens when you promote the product or service of a company that you are affiliated with. The first tool you need is a website.
Your website is where you will create content that will encourage your audience to click the link and make a purchase.
Doing affiliate marketing using your website has its perks. You can increase your audience and at the same time earn from it. While there are other avenues where you can earn money through affiliate marketing without having a website, this article is focusing on earning revenue through affiliate marketing while having your own website as it has advantages.
2. Choose Your Niche and Market Research
Doing affiliate marketing also needs to be in line with your niche. If your niche is about health and wellness, the companies you affiliate with also need to belong to that niche, so you can properly promote and advertise the company's products and services.
In finding your niche, you need to be comfortable in handling the topics you will discuss within that niche. You need be able to create your content comfortably and with ease. It should be something that you are knowledgeable about and can talk about.
And if you are going to do affiliate marketing, you need to consider if you can do affiliate marketing within that specific niche.
Choose your niche properly. If you'd like to read more about niches, you might like to read this article
Along with choosing your niche also comes market research. Research whether your idea will be viable and profitable.
Are there people out there purchasing the products that you are considering promoting? Is there a large competition? Are people reading content within the niche that you are considering choosing?
3. Produce Content that is Engaging and SEO Friendly
One of the reasons why affiliate marketing is working is because of content.
When you produce content, whether it is written or a video format, you need to make this content engaging, compelling, accurate and excellent.
Remember that the content you create can either make or break your affiliate business. If you wish to succeed in affiliate marketing, you need to produce content that your audience wants to read or watch.
In addition, this content must be in line with your affiliate's company's regulations and terms, the product/s they sell and the platforms that you post them to (i.e. videos posted to YouTube need to be in line with their policies and regulations, too).
Also remember that you should always focus on helping your audience or offering a solution to your audience's problems first before trying to sell anything to them.
This also includes producing informative articles on your website and not just trying to sell stuff.
In addition, search engines might consider your website as a 'bridge website' (which means that you have too many affiliate links on your website) and consequently not rank you very high in search engine results.
This is also part of SEO (Search Engine Optimization) which is covered in the training that you can start for free mentioned at the end of this article.
4. Build Your Audience
Creating a website and finding your niche is not enough to be successful in affiliate marketing. Your website needs to have traffic and you need to build an audience.
If you don't have an audience for your website, your opportunity to earn income is zero.
In many cases, companies require you to have an audience and website traffic before you can become an affiliate marketer with their company.
There are different ways on how you can build an audience and this will be covered in the training (that you can start for free) mentioned at the end of this article.
5. Search for Affiliate Programs
If you have made yourself known to the digital world, some brands may be the ones to reach out to you to become their affiliate marketer.
But if you are new to the business, you can contact companies that operate within your niche and apply and sign up to their affiliate programs.
One way for you to do this is by joining affiliate platforms. There are plenty of affiliate programs being offered. Search for them and join them if you find they are suitable to your niche.
It is also recommended to sign up to more than one affiliate program.
6. Promote Your Website
It's not enough to create excellent content, nor enough to update and post in your social media pages; you need to exert an effort and work on your promotions.
When you are doing affiliate marketing, you not only want to focus on increasing your traffic but also remembering that you earn if and only if someone uses your links to purchase from your affiliates. If you are not working hard to get the audience and customers you need, you will not earn.
Put your mind and heart into what you do and focus on establishing a successful business.
7. Utilize Social Media
To make affiliate marketing success on your part, consider using social media.
You can find your audience and customers from social media and you can promote your page there as well. You can give information to your audience through your social media pages and redirect them to your website and your affiliate links.
In addition, creating videos is not only fun but also an effective way to use within affiliate marketing. You can always drive traffic back to your page and not just increase your website's traffic this way but also increase your earnings.
8. Continue To Learn
In order to be successful, whether it is affiliate marketing or another goal you are pursuing, it is pertinent to continue learning.
Learn in order to get a foundation, learn the basics and then progress. Some people have been in business for many years and are continuing to learn within their area of expertise.
Stay up to date with the newest trends (not saying that you need to implement everything but just to be aware of it and then you can choose whether you wish to implement it or not) and learn from people that are experts within your chosen niche.
9. Work Hard
As with any business, it is important to work hard and consistently. Do what you love and celebrate the small steps that you accomplish on your way of building a successful business.
10. Keep an Eye on Your Performance
When you do affiliate marketing, it is wise to track your performance to know and understand when someone used your links to make a purchase.
Even without the details of the audience, you can use the commission you earn to track how many people used your links. With that, you will be able to see numbers to use in comparison with the previous statistics and forecast future sales.
You will also know how well you did in promoting your affiliates and the traffic to your website. Use this data to improve and continue what you think is working best.
All of the above (which is not an exhaustive list) is being taught within the training at Wealthy Affiliate that you can start for free TODAY.
Don't let this opportunity slip.
Take advantage of it and if you decide that it is not for you, you can always close your free account.
Wealthy Affiliate offers affiliate marketing training that you can start for free today. You can go directly to their website here and create your free account:
If you wish to receive an email sequence guiding you along the training that you can start for free, please go to this page:
Wealthy Affiliate does not only offer amazing training but also secure and advanced hosting for your websites as well as expert advice and help within their community to build an affiliate marketing business.
Feel free to contact me if you have any questions and I will help where I can.
Affiliate marketing is one of the business types you would want to consider embarking on if you are looking for a passive income. It's never too late to start today as it is currently growing within the digital market.
Sources:
mobidea.com/academy/start-affiliate-marketing/
abetterlemonadestand.com/start-an-affiliate-program/
printful.com/blog/how-to-start-affiliate-marketing/
partners.livechatinc.com/blog/how-to-start-an-affiliate-marketing-business/
affilorama.com/blog/first-affiliate-marketing-sale
locationrebel.com/how-to-start-affiliate-marketing/
thebalancesmb.com/launching-affiliate-marketing-business-2531501

Some of the links within this post are affiliate links of which I receive a small compensation from sales of certain items. There is no additional cost to you. If you purchase through one of the affiliate links, you are helping to keep this website running.