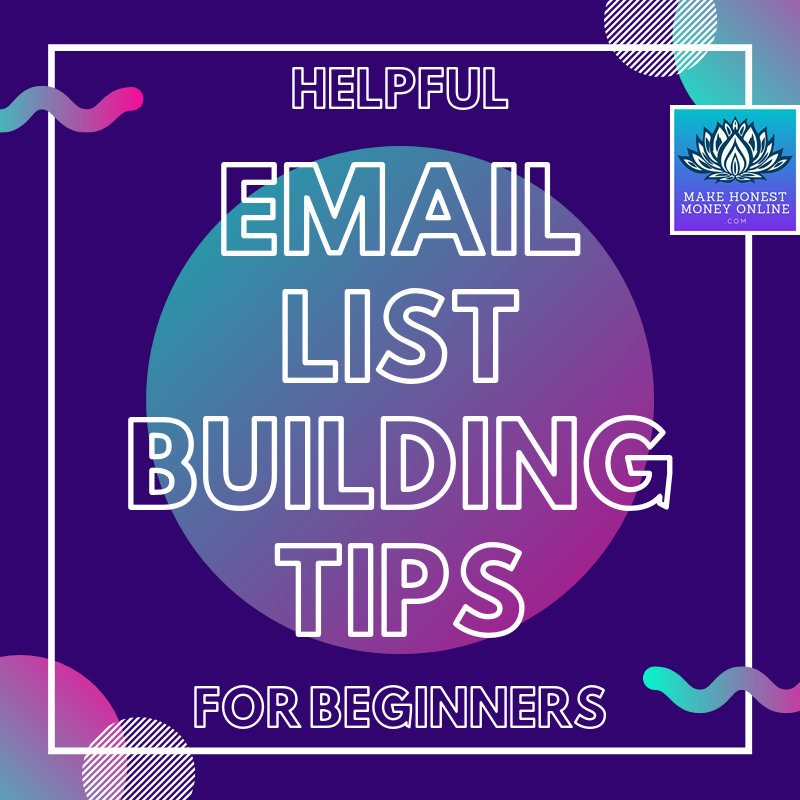 Are you a novice entrepreneur? Are you struggling to build your followers? Have you started generating leads for your business? If so, what tools do you use to reach out to the people you are targeting? If you haven't thought of it yet, there are tools that can help you build your list.
Email marketing is one of the business strategies that will land you a higher rate of success. This is because you can convert visitors to become subscribers and potentially paying customers if this is what your intention is.
In this article, I will be sharing with you some helpful email list building tips. It is applicable for beginners and entrepreneurs with little experience.
But first, let us discuss why you need to build an email list.
You must have heard about email marketing, and yes, email marketing is quite an important part of a business and it has its perks as well. Emailing a customer or a prospective client is not an 'old school' way of communicating with them. As technology evolves, so does the business plan. Businesses also need to change and evolve along with the evolution of business competition. It is not bad to remain a traditional entrepreneur, but we all know that nowadays, we reach more customers through the internet.
Let's go back to the importance of an email list. If you have an email list, you can easily connect with your customers and for you to easily do that, you need to build an email list.
Here are the reasons why an email list is important for your business:
You can use your list to monetize and pitch your products to your customers. This might not be an instant success, but as your brand makes a name in the business world, you can easily reach out to your clients and prospective clients by sending them emails and business information.
An email list is an integral part of any business, especially if you have a website and if you promote contents. Having an email list will allow you to engage with your audience in a creative and personalized way that you cannot convey on your website.
An email list is your constant way of communicating with your customers or audience. You do not need to email them one by one but you have the option to automate your emails. At the same time giving you time to work on other parts of your business.
An email list can protect and promote your business. While technology evolves, so does the internet. Today your website might be working, the next day it might be suspended or hacked. An email list will help you protect your business. Even if your website will be gone, you still can communicate through your email list. Of course, you can promote anything if you have an email list. As mentioned, you can have a personal touch for each message that you send.
If you are a blogger, you can notify your subscribers as soon as you post a new blog which can be a very powerful business tool.
So now we have covered the importance of building an email list. Let us now discuss tips to help you build and grow your list.
1. Choose a Platform
There are lots of email tools that you can choose from. Before you build an email list, choose which one is suited for your business. They can all be used for any types of businesses, but pick the best one that will help you reach out to your customers and fulfills your needs. There are emailing tools that are not convenient to use especially for small size businesses. Choosing the right platform is the first thing you need to consider before building an email list.
2. Give a Reason (and Incentive) to Subscribe
You cannot just force your followers or your audience to subscribe because they visited your page. You must offer something that will convince them to subscribe to your email list. You need to offer them something that will benefit them as long as they subscribe to you. This can be a bonus or freebie within your niche when signing up and/or receiving valuable content on a regular basis by email.
3. Create Valuable Content
When you have started collecting subscribers, you must be able to give them valuable content on a regular basis. Give them what you offered and you need to keep your content up to date as well. You also need to connect with your subscribers regularly. If you can, send them a monthly newsletter. Other businesses send out weekly emails. See what works best for your business. Offer incentives and gifts from time to time if suitable. As much as possible, let them know about your existence because if not, they might unsubscribe from your list.
4. Design your Website Well
Make sure your website is designed well, that attracts and maintains visitors. If visitors like the professional look, layout and content of your website, they are more inclined to sign up and they would expect the same professional look and content from your emails. Ensure that the layout is similar.
5. Display the Sign Up Form in a Prominent Place
Ensure that you have the sign up form visible and easily accessible. You can have internal links from other pages to your sign up page or you can have the sign up button in your side banner or sticky footer bar. Many options are available and choose the right one/ones for your website. Some experts even say to display your sign up form (or any other very important information) 'above the fold' which means at the top of your website where visitors can see it straight away without having to scroll down.
6. Have a Landing Page that is Converting Well
We have just talked about the look, layout and professionalism of your website. This also includes your landing page. Ensure that it looks well, so that it converts well.
7. Include a Call-To-Action Button
Take time out of your busy schedule and create a well-designed Call-To-Action button that you can use on your website.
8. Clean Your List on a Regular Basis
I know it's not easy to build an email list, but if you think you have subscribers who are not active, inform them that they might be removed, or that you are cleaning your list. This way, you can have more space for new subscribers who are more active and would want to be a part of your success.
As an entrepreneur, your success also depends on who is subscribing to you and who is following your content. An email list is an integral part of your success, so start building one today.
Please let me know if you have any questions.

Some of the links within this post are affiliate links of which I receive a small compensation from sales of certain items. There is no additional cost to you. If you purchase through one of the affiliate links, you are helping to keep this website running.