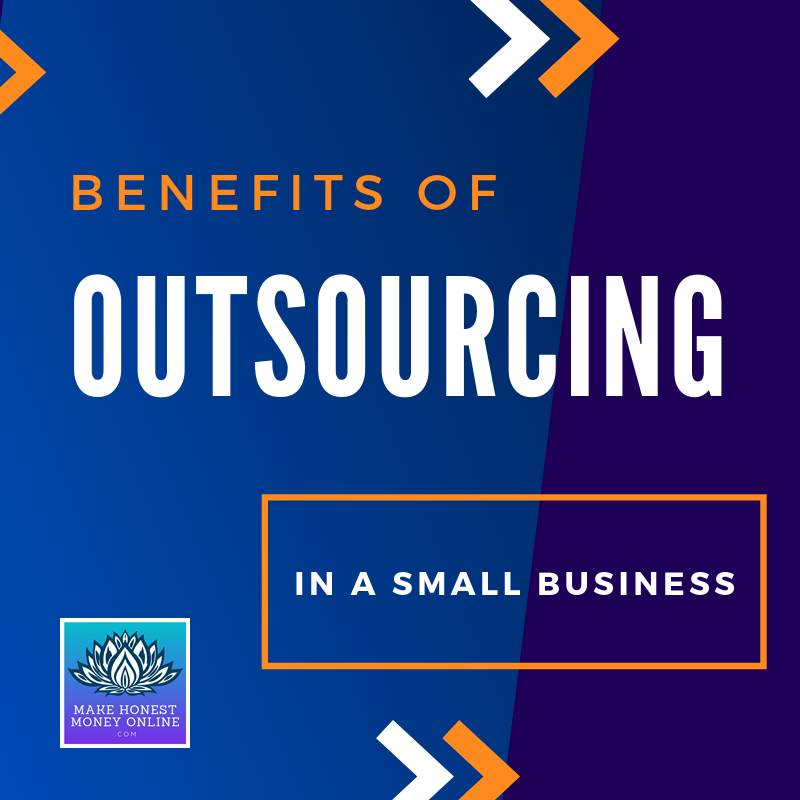 Do you have a small (online) business and it's expanding? Are your hands full because of your business and you need a hand or two to keep up? One of the solutions is outsourcing.
There are lots of benefits in outsourcing in a small business. Outsourcing is the answer if you cannot keep up with the tasks you need to accomplish. Many entrepreneurs outsource for their business and not only do they become more efficient by attending to the most important things at hand, but almost all tasks are being attended to.
If you own an online retail store or business and you are not able to cater to the needs of your clients it can affect the efficiency of your business. Online businesses are expected to be reachable and accessible 24 hours a day and this is the reason why you need to consider outsourcing.
If your business is having a global reach, you need to be accessible around the clock, but if you are the only one doing it, you can't do it every day because you also need to rest.
This is where your outsourced employee comes in. Your outsourced employee will be the one to look after your clients on your behalf when you are not online.
You can even hire one or more to do other tasks necessary for the business and you can excuse yourself from the routine, oversee the process and attend to other important matters in regard to your business.
You can also outsource other particular tasks for your business, for example:
Writing blog articles for your website
Attending to social media accounts
Attending to customer emails and enquiries
Setting up your website and graphic design
Managing your e-commerce store
Administration, including bookkeeping or payroll
Etc.
Outsourcing help for your small business is important. Here are the benefits if you start outsourcing:
1. Get Tasks Completed More Quickly
One of the things you can't do alone in business is to complete everything by yourself in a day. Unless you can miraculously clone yourself and let them do the rest of the job, then you can choose not to outsource extra help. But we can't clone ourselves, so we need to outsource to free us from the routine works that other people can do for us.
When you outsource, your helping hand will assist you to get things done faster than if you would do it all by yourself. There will be someone who will cater the orders (for example), someone to do the accounting stuff, someone to attend to the blogs and affiliate marketing matters.
The job will be divided amongst people in your team and more tasks will be completed in a day.
2. Experts Will Handle Your Tasks
One of the reasons why you need to outsource is because your outsourced employee is the one who is an expert to the task at hand.
It is the same concept as big companies where you hire the person who is an expert on the task you wanted to get done. If you have a retail shop, you wouldn't hire a writer for the position of payroll in charge of accounting.
You will find an expert who can do the job and is probably skilled in more areas, too. You will not have a problem with the tasks because you know your outsourced employee can accomplish them.
You will give a few introductions to the tasks and how you want it done, but you know that the person handling the task knows what s/he is doing and is committed to delivering results.
3. You Will Be More Productive
Productivity is always an issue if you have an online business. If you are the only one running your business, your productivity can decline because of the many additional tasks that need to get done.
An outsourced employee can help you to finish these tasks and you will be left to finish the other important matters.
In addition, you will have time to attend to personal matters and you can always ask your outsourced employee to get things done on your behalf if you are not able to do it and if s/he is knowledgeable in that area.
4. You Can Save Money
When your business is starting up, you can always hire part-time outsourced employees. You do not necessarily have to spend a lot on outsourcing.
You can give out specific tasks to be done by the outsourced employee for some time. Or you can hire someone to do varied tasks for you for 2 or 4 hours a day until your business is up and running. This way, you can save money because you don't have to pay full time. You can also hire on a project-based or freelance basis.
5. Flexible Staffing
Outsourcing will give you the chance to hire additional staff in times of need only.
It means you can hire just for a specific task for a certain time only. If you are running a business and you are looking for a graphic designer, you can outsource one and hire that person for the specific task only. It can be a contract or project-based job. Once you have what you need, then it will be the end of the contract and the person gets paid on what you have agreed.
You can always outsource if one department of your business needs additional staff to finish their tasks. There are plenty of freelancers who are willing to work on project-based tasks and would still offer their services if needed in the future.
6. Peace of Mind
Outsourcing can help you save yourself from insanity because of pending tasks that you can't work on alone. You will have the peace of mind that there are people who are handling the tasks and that they are experts in the specific tasks.
You will not have a problem of pending tasks because you have outsourced employees who are doing the things you don't like to personally attend to or aren't good at.
No one is an expert at everything and running a small business comprises lots of different types of tasks that need to be completed in order to be successful.
Consider outsourcing experts in the areas you are not as confident and you can take a rest, focus on the things you are really good at and go back to work with less pending jobs because they were done by your outsourced employees.
If you are considering outsourcing, and don't quite know where to start, read my post here about onlinejobs.ph. This is a platform where you can outsource Filipino staff on a freelance, full time or part time basis.
Filipino staff are said to be dedicated, committed and hard-working while English is their nationally spoken language. I have also included a link to a 'guide on outsourcing' in this article, if you have not outsourced before.
Onlinejobs.ph is more for larger or long-term projects, contracts or outsourcing employment. If you are just looking for a very quick one-off task, i.e. outsourcing someone to design a logo for your business, check out Fiverr.
Take advantage of outsourcing and hiring additional expert help.
And please let me know if you have any questions.

Sources:
smallbiztrends.com/2017/02/advantages-and-disadvantages-of-outsourcing.html
homebusinessmag.com/management/working-smarter/advantages-outsourcing-small-businesses/
medium.com/@bomgamer/7-benefits-of-it-outsourcing-for-small-businesses-5f220b2a5f4e
thebalancesmb.com/top-outsourcing-advantages-2533765
forbes.com/sites/deeppatel/2017/07/17/the-pros-and-cons-of-outsourcing-and-the-effect-on-company-culture/
entrepreneur.com/article/277914