The internet is a widely known source of income and there are plenty of ways on how you can earn money online. One of the most notable ways to earn online is through affiliate marketing. This post will give you a simple guide on how to make money from affiliate marketing.
One of the many questions asked: "Can you make money through affiliate marketing?" The very simple answer to this is YES! Affiliate marketing is one of the oldest marketing practices. This is not only for online marketing businesses but it has been practiced by traditional businesses as well.
For those who are not aware of what affiliate marketing is: affiliate marketing is one of the oldest practices of gaining and earning through affiliating with other businesses. It is by far one of the cheapest and easiest ways to market and earn. When you do affiliate marketing, you are not required to have a product or a service of your own, but you can promote a product or a service of another business or your affiliate.
So you may be asking, "How can I earn by promoting their products and services?" Well, it's quite easy. You will promote their product and services through your website, or your blog, vlog or through social media. It is another way of advertising their products and services. You will have a commission for every sale your affiliate makes through your website or blog. So you need to ensure that when the buyer and the seller have made a sale, that you have a linked connection for you to take your commission.
As promised, this a simple guide on how you can benefit from affiliate marketing and earn money from it. These are some of the most important things you need to secure when you want to start affiliate marketing.
1. Secure the Necessary Technology Needed
Affiliate marketing is a good source of income, but to have that money just coming into your bank account, you need to secure the necessary technology for you to really earn. Affiliate marketing may be a simple task of promoting a product from a certain company, but how will you able to collect your share of the profit? Like all online merchants and e-commerce stores, you need to add a tracking system to your website. This tracking system is from the seller that works when they make a sale from a customer. The seller will give you, as their affiliate, a unique tracking ID to track all the referrals and clicks that happened to the checkout.
2. Create Engaging and Interesting Content
If you are doing Affiliate marketing, you are not only promoting their products by simply inserting their product links to your content. You can do that if the content is related to them, but the most effective way for you to gain a commission and eventually earn money is when you write compelling content or reviews about them, their products and services. This way you can give an idea to your readers and prospective customers of what they are selling and offering. This also gives you a higher probability of sales and commission.
3. Promote your Content and Page
It is not enough to just make compelling content without people reading it or having people read it that aren't interested. If you are promoting a product about women and most of your audience are men, you are most likely talking to the wrong group. Although there might be some people that are curious about what you promote, the sales will be less. You need to reach out to the right readers and audience so you can make a sale and earn your commission. You can also send your content to your email list, post on your social media and make sure your post is optimized.
4. Learn about SEO and Post Regularly
While promoting your content and page, it is also important to learn about SEO (Search Engine Optimization) and implement it. While you can always pay for traffic, you can also lose a lot of money if it's not done the right way. Also, you probably don't want to invest too much money if you are just starting out. This is where SEO comes in. SEO helps with bringing free traffic to your website, which results in more visitors and potential clients, ultimately increasing your chances to make more money.
Posting regularly also plays an important role in monetizing your website. Some entrepreneurs post once a week, some post 2-3 times while others post every day. Try to find the right schedule for you and your business.
5. Learn from Experience and Improve Your Method
Affiliate marketing is a line of e-commerce marketing that cannot be perfected in just one night. You will make mistakes as you go along and how will you improve? By learning from the past and also learning from other affiliate marketers' experiences. Track how you are doing with affiliate marketing. You can monitor the commissions you make every month so you can track which part you have higher or lower commissions and learn from it. From there, improve your method. Look for other ways on how you can generate more income, what you can offer to your clients and how you can get more buyers. If you are completely new or a beginner in affiliate marketing, my recommendation is to do an Affiliate Marketing Training Course that offers step-by-step training on how to make money from Affiliate Marketing.
6. Don't Stop with Just One Affiliate
Yes! You can have as many as you can handle. Start with researching your niche and available affiliate programs to find the right ones for your website.
Affiliate marketing can be helpful in assisting you to earn online. But if you are unsure whether or not to venture in affiliate marketing, here are some of the pros and cons that might help you.
Pros:
Low cost. Since you are not going to make your own product, you can start with low to zero capital.
You can work anytime and anywhere. You are not obliged to go to an office, or go to work and spend so much time commuting. You can do this while vacationing or before you go to sleep.
Good potential for passive income. Yes, affiliate marketing is a good source of passive income. Even if you have stopped promoting your post, it can continue to generate income for you. Isn't it good?
There is no need to ship products. Since you have no product, you have no problem with shipping or working on returns. The company you are affiliated with will handle shipping and returns and pay your commission (usually after a certain amount of waiting period).
Cons:
Income generation will take a while. Since affiliate marketing is mostly reliant on traffic, and as it takes a while to set up an affiliate marketing business and generate enough traffic, your income will also take a while to get to your hand.
You don't have control over the products or the services you are promoting. You don't have control of how the business that you are affiliated with works either.
There is a chance that your client might not pay you. But not all companies are scams, so it's important to do proper and diligent research before signing up to affiliate programs.
Affiliate marketing is neither easy nor difficult. No one earns money online in just one night. Making money online will take patience, commitment and dedication. But once you mastered affiliate marketing, passive income can be a source of income.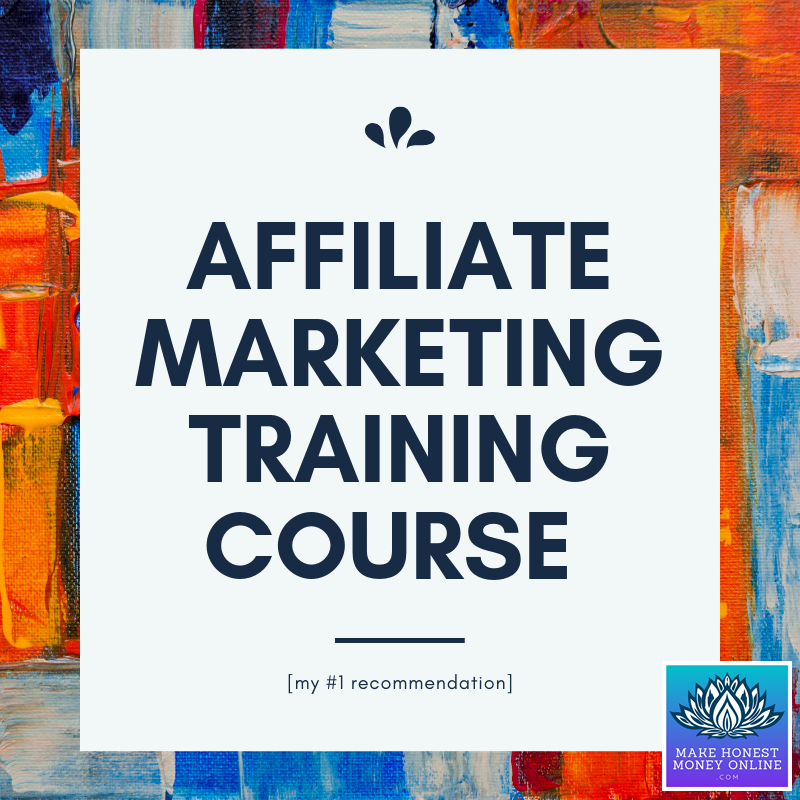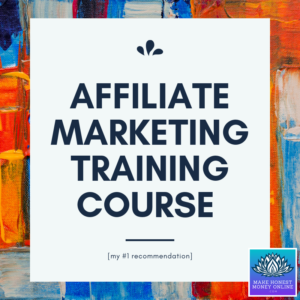 I am assuming that you are considering making money online through affiliate marketing (otherwise you would have not searched for and read this post to the end).
My recommendation to you is to have a look at the Affiliate Marketing Training Course that I mentioned earlier. It is free to join with an email address (and no credit card!) and you can go through the first level of training, which consists of 10 lessons, for free. This way, you can find out whether it is the right training for you.
And they also offer more than just training in becoming a successful affiliate marketer. In addition, they offer advanced and secure hosting, the possibility to purchase your own domains and a very active & dedicated community and support team ready to help you when you need it (amongst many other features that you'll find out if you join).
If you are ready, click here to check them out for free or read my post about my #1 recommended Affiliate Marketing Training Course for more information.
If you have any questions, feel free to contact me or post your question/s below.

Sources:
tipsandtricks-hq.com/can-you-make-money-from-affiliate-marketing-if-so-how-2473
milesbeckler.com/make-money-with-affiliate-marketing/
optinmonster.com/get-started-with-affiliate-marketing/